Honoring the Memory of Your Loved Ones
Losing a loved one is one of life's most challenging experiences. It can be difficult to find the right words to express the depth of your emotions and honor their memory. That's why many people choose to include a meaningful quote on a memorial plaque. A quote can capture the essence of the person and their life, providing a source of comfort and inspiration for those who are left behind.
At Plaque-Direct, we understand the importance of creating a beautiful and meaningful tribute to your loved one. That's why we offer a wide selection of memorial plaques that can be customized with a special quote. Whether you choose a quote from the Bible, a poem, or a famous saying, we can help you create a plaque that perfectly reflects the life and personality of your loved one.
Our collection of meaningful quotes for memorial plaques includes words of comfort, inspiration, and reflection. Each quote has been carefully selected to provide a source of solace and hope during this difficult time. With our help, you can create a beautiful tribute that will honor the memory of your loved one for years to come.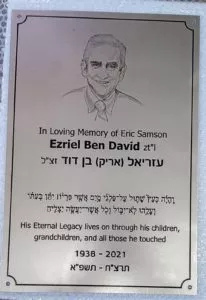 Examples of Heartfelt Memorial Quotes for Your Tribute Plaque:
"In loving memory"
"Forever in our hearts"
"Gone but never forgotten"
"Rest in peace"
"Until we meet again"
"May your soul rest in peace"
"Your memory will live on"
"Those we love don't go away, they walk beside us every day"
"Life is not measured by the breaths we take, but by the moments that take our breath away"
"To live in the hearts we leave behind is not to die"
"Perhaps they are not stars, but rather openings in heaven where the love of our lost ones pours through and shines down upon us to let us know they are happy"
"The best and most beautiful things in the world cannot be seen or even touched, they must be felt with the heart"
"Love is eternal"
"In your light, we shall see light"
"We loved you every day, and now we will miss you every day"
These are just a few examples to get you started. You can also consider using quotes from religious texts or literature that may have special significance to the person being commemorated. Remember, the quote should be meaningful and speak to the memory of the person being honored.